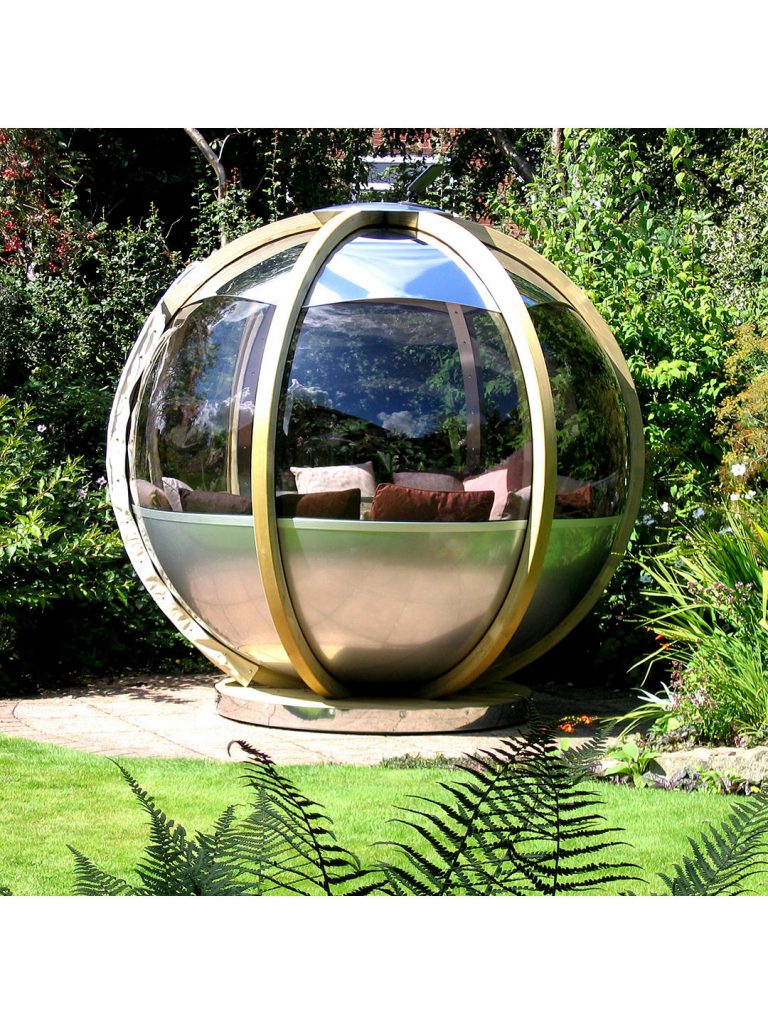 If your budget doesn't quite extend to the more roomy ten seater Farmer's Cottage Deluxe Summer House Sphere garden pod, then the Farmer's Cottage Rotating Sphere Seater garden pod which can accommodate seven people in luxurious surrounds may well be the choice for you.
The Farmer's Cottage Rotating Sphere Seater garden pod is different from other models and has an exceptional 360 degree rotation. This enables you to position the garden pod away from the elements or to allow access to the garden pod from any other part of the garden depending on your needs.
Like all other Farmer's Cottage garden pods, style and design as well as comfort are paramount, the stainless steel roofing that encompasses the sphere top like a glove reflects heat keeping the garden pod cool in the hottest of summer months, as do the reflective acrylic tinted windows which keeps out the glare of the sun.
Don't like white seating? Not a problem, the Farmer's Cottage Rotating Sphere Seater garden pod has a bespoke furnishing option with colour options to suit most with over 25 vivid colours from Mulled Wine, Almond to Ginger Snap to choose from. As with all garden pods it can be customised to your choosing after installation allowing for electricity supply, lighting and any other visual accessories to be added with ease.
Garden pods are unique in that their design fits well with almost any garden, it needs no building attachment, no planning permission and has the enviable task of offering maximum internal seating without using up so much space in the garden. In turn visually these garden pods allow you to see more of the garden rather than being faced with cramming a studio shed or summer house into a corner and blocking out parts of the garden.
Once inside the garden pod, the Farmer's Cottage Rotating Sphere Seater garden pod allows almost 360 degree views of your garden no matter where you sit, fully waterproof inside and out, this most superior of garden pods comes complete with canopy for the entrance way, further shielding those inside this futuristic garden piece from the elements should the weather change – as it invariably does in the UK.
The Farmer's Cottage Rotating Sphere Seater garden pod offers 2.4 metres of seating area, measures 236cm in diameter and is 2.2 metres in height. Complete with central circular table, dinners outside and events at a BBQ are no longer a seating nightmare, dine in comfort and even work in peace with the tranquillity of your garden as a backdrop. Garden pods really do excel at providing style, design and functionality.